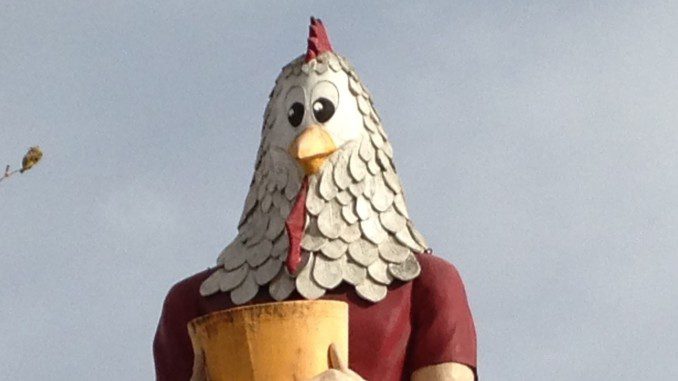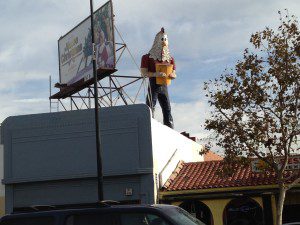 NYC might have their fancy Empire State building, but LA has Chicken Boy; the truest symbol of honor, patriotism and dignity on the West Coast.
Perched high above Figueroa st. in Highland Park, and visible from many blocks away, this feathered, 22 ft. tall behemoth has been hailed as a modern LA landmark and goodwill ambassador of our fair city. And by the looks of it, that reputation is entirely dignified.
You see, Chicken Boy is a metaphor for all of us; hard working, honest, observing life from above and always chasing the American dream, with a bucket in hand. When you search deep inside, we all have a little Chicken Boy in us.
He grasps his bucket firmly, and stares blankly at onlookers, while confusing those who don't understand and bringing smiles to those who "just get it." A true Marvel of the West, and quite handsome if I must say.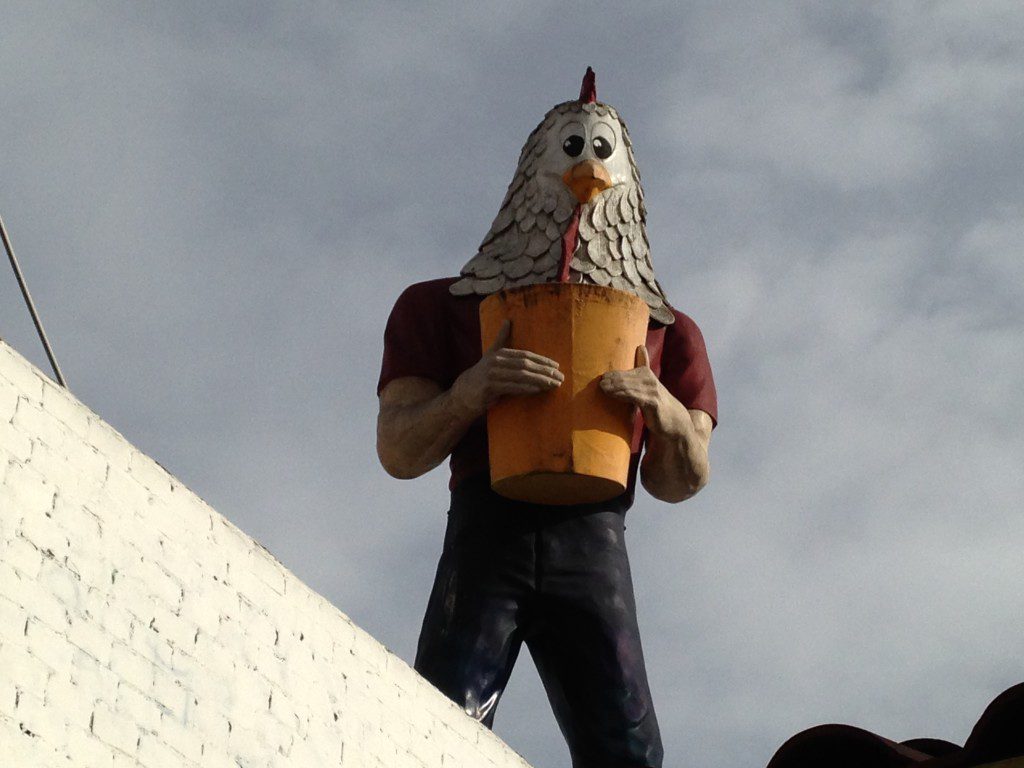 The statue itself has gained some serious notoriety around the world, often showing up amongst the Hollywood sign and Marilyn Monroe in books, movies and websites about famous LA landmarks. Just think, this once dejected (see story below) man-bird is probably pretty damn big in Japan!
Below our feathery friend lies a gift shop where you can buy CB branded key chains, shirts, figurines, books and talk to the locals about the cluckster. I, for one, will cherish my chicken boy mug forever.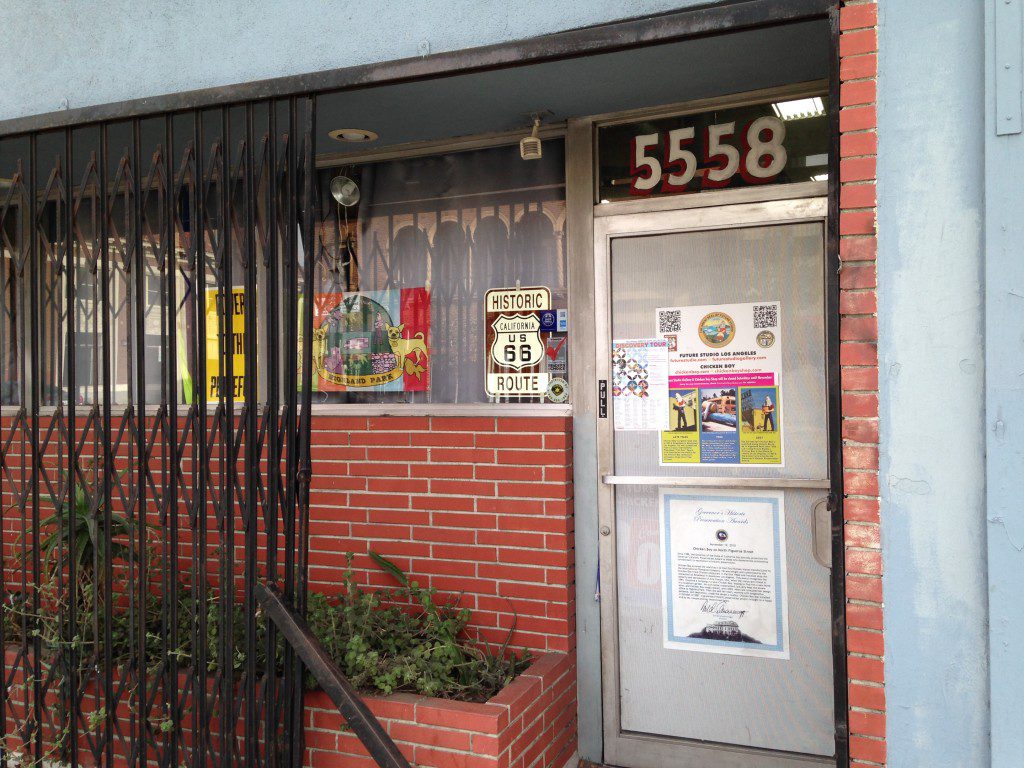 Swag at discount prices!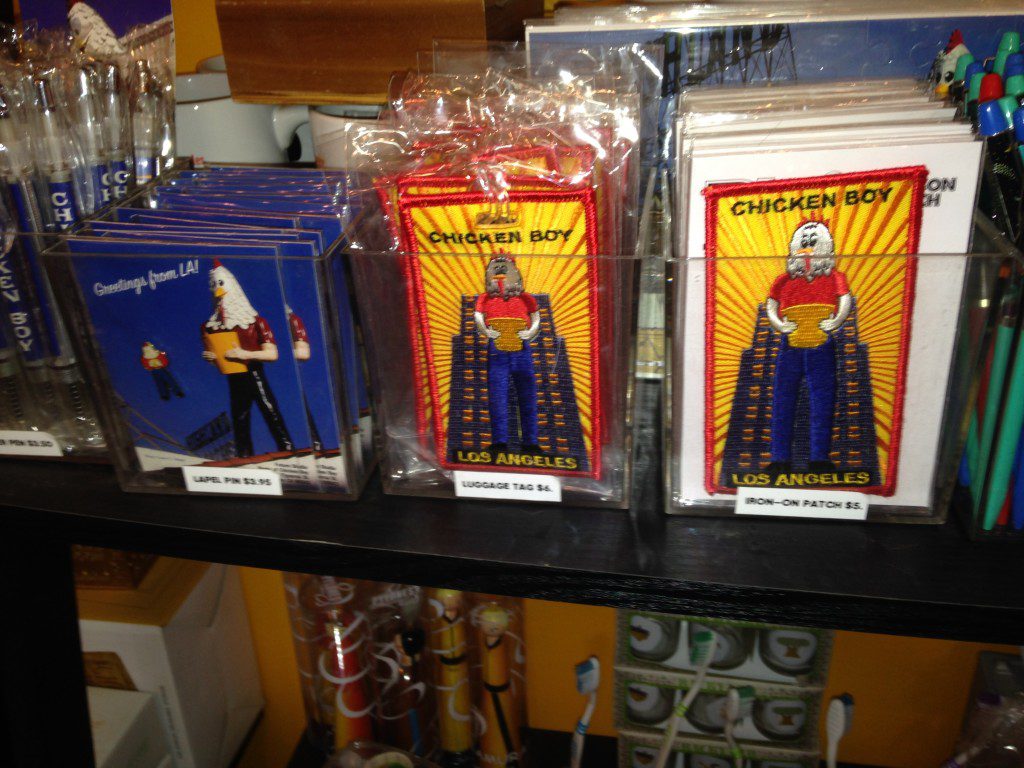 I don't need to say much more. All hail the mighty chicken god, and his bucket of awesome.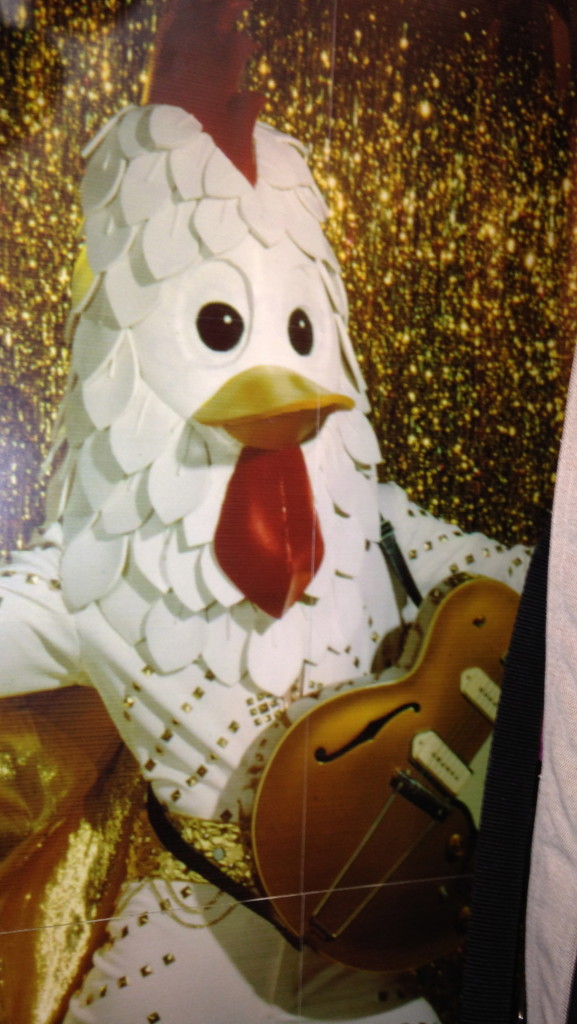 HOW THE HELL DID THIS HAPPEN?
As the story goes, Chicken Boy was originally the mascot for a downtown fried chicken restaurant in the 1960s.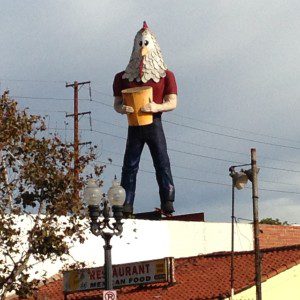 Located on Broadway, near Grand Central Market, the bird boy was built by International Fiberglass Company; a group known for creating other famous advertisements, such as The Paul Bunyan and Muffler Men statues, of the time.
IFC had a daunting task at hand, but went to work on creating a Bunyon-ish giant that would be big enough see from most of downtown. Once the body was completed, an artist was brought to create a customized chicken head and the axe was substituted with a bucket. Like the first time peanut butter met jelly, the half man/half bird combination fit perfectly, and looked pretty damned good perched on the roof.
The statue would terrorize downtown until 1984, when the restaurant owner died and Chicken Boy found himself in the hands of local art director Amy Inouye. Purchased on a whim, Amy couldn't see Chicken Boy go the junkyard, but had no idea what to do with the beast.
This change in ownership would save CB but ultimately lead to what the public reluctantly calls the "Jail House" years, which was a dark period that saw him locked in cold dark warehouses across LA County for over two decades. Would the bird ever fly again?
With a clamoring public waiting, Inouye would finally unearth and unveil the statue in Highland park in 2007, where it's been restored via donations from the community and volunteers. Viva la Chicken Boy!